Assalamualaikum
Kali ni cik nak share recipe yang diberi oleh junior cik kat Fukuoka ni. Minta izin dipaparkan ye cik Dian !! Senang benor nak buat nye. The taste?? Jangan la tanye.. of course laju je lalu kat tekak cik. Lagi-lagi dah masuk summer nih. Jom tengok recipe.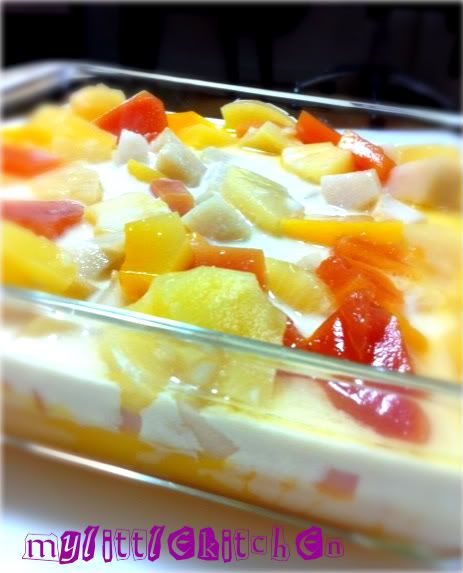 Ingredients
( Pudding )
tepung custard - 2 cup
air - 8 cup
gula - 4 sudu
( Sauce )
susu cair - 1 tin
air - 1 tin
esen vanilla - 1 teaspoon
gula - 5 sudu

( terpulang if nak tambah or kurang manis )

garam - secubit
Buah-buahan dalam tin, nata de coco.
Method
Capurkan semua bahan pudding ke dalam periuk kecil dan panaskan atas api kecil sehingga likat. Tutup api .
Tuang ke dalam loyang dan disejukkan
Sauce- Campurkan semua bahan ke dalam periuk dan masak hingga mendidih ( api sederhana ). Sejukkan.
Campukan buah-buahan semasa menghidang.
Adoi la...senang nye nak buat kan.
Dah cuba ?? Amacam ??